Improve methods to slaughter chickens!
2017/03/19
Today, the methods of slaughtering chickens, whether they are for meat or eggs, are to hang them upside down in shackles. Then, they are put into an electrified water tank until unconscious, if they are lucky. Those unlucky ones get their throats (artery) slit while being conscious, bled to death, and then put into boiled water.
In order to minimize the sufferings, they should be knocked unconscious or stunned by gas or electricity. Instead, chickens necks are cut without such procedures, then, electricity is used after, in order to let them bleed more or calm the chickens.
In the EU, it's not allowed to cut chickens' necks without making them unconscious first. In Japan, such a regulation does not exist.
Making Improvements in the EU, Making no progress in Japan
In the EU, slaughtering with gas, such as Controlled Atmosphere Killing (CAK) and Controlled Atmosphere Stunning (CAS), are becoming pervasive. If not, at least water stunners are used.
Moreover, there is a belief that there should be more research done to seek for even more ethical methods than CAK or CAS. Research and discussions on ethical slaughtering or problems with current methods are very active.
This is also true of pigs and cows. The research is always ongoing to make improvements to these issues.
The biggest problem in Japan is that these issues are regarded as taboos due to prejudice and discrimination towards such work, despite the fact that slaughtering is part of the process for meat, eggs, and milk.
Giving consideration to animal welfare also means giving considerations to human rights. This issue should be paid attention to precisely because people are prejudiced and discriminated against unjustly in this industry in Japan.
We are way behind in terms of animal welfare for the fact that there is no such discussion whatsoever.
Other Countries Switch to Gas Killing
71% of Livestock animals are slaughtered by gas in England.[1]
Corporations' actions are changing even faster. McDonalds, Subway, Starbucks, and Restaurant Brands International (Burger King and Tim Hortons), and the biggest restaurant in Canada, CARA, have stated that they would change to the CAS methods.

There are still many places that don't practice even water tank stunning in Japan. If these slaughterhouses consider implementing a new facility, it must be CAK and CAS systems, not water tank stunning, which is already controversial.

But before that, we must understand how many chickens are slaughtered without being stunned, and its common methods in the industry. Also, we need to know the numbers of birds with fractures or dislocated bones, debility, and death when they arrive at slaughterhouses.
With such facts, we should be able to start discussing these issues.
Send Your Voice to Our Government
Please send your voice to Ministry of Agriculture, Forestry and Fisheries to request minimizing suffering of animals in agriculture.
http://www.maff.go.jp/j/apply/recp/index.html

Please send your voice to the Ministry of Health, Labour and Welfare, who is in charge of slaughtering animals, to request measurements of animal welfare at slaughterhouses.
http://www.mhlw.go.jp/houdou_kouhou/sanka/koe_boshu/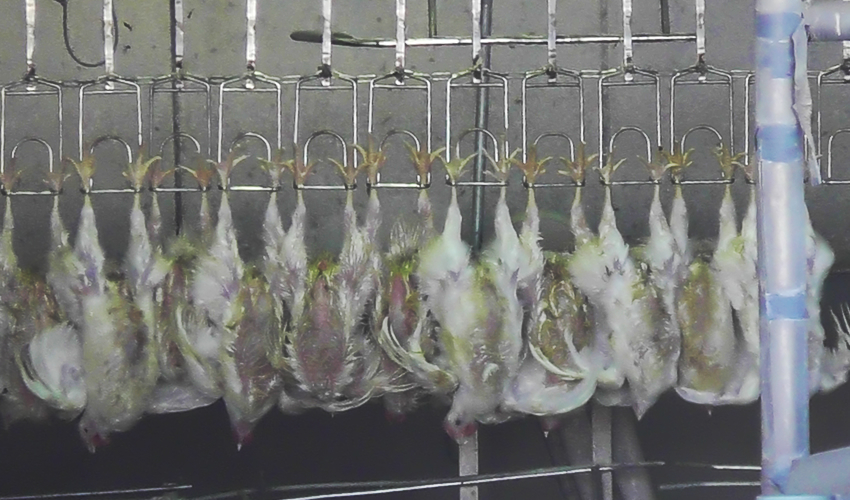 1 [ Animal Welfare at Slaughter Improving in UK the sheep site 2015]
Copyright © 1997 - 2017
Animal Rights Center Japan
All Rights Reserved.