[Progress Report] Petition to call for cage-free eggs
2017/06/07
As of June 7th 2017, the petition for
"Please do not lock down laying hens"
has collected 14,565 signatures. We have been delivering these voices to companies that deal with eggs.
Hearing from some of these companies, we got the impression that their awareness of welfare issues on animals in the agriculture business has risen in comparison to how they were several years ago.
The people in charge of these companies didn't even know words such as "cages" and "free-range" back in 2014, when we turned in our petition to one of the biggest 24 supermarkets in Japan. However, the companies we inquired this time are aware of the issue of eggs laid in cages.
The awareness towards welfare of animals in agriculture in Japan is still low. Almost 100% of eggs in the market are from caged hens. But, this may change slowly.
Below are responses from the companies. Note the companies that have not replied are not listed here. We'll continue to post as we hear from these companies, government entities, municipalities, which deal with public polic.
Japan McDonald's
(PR Department)
We requested them to receive our petitions as well as exchange our opinions in January 2017. However, it was denied for the reason that it is not one company's response.
That said, Japan McDonald's has been sincerely answering questions regarding animal welfare such as gestation crates and battery cages. It may be due to their announcement to go cage-free in England, New Zealand, America, and Canada, in which measurements towards animal welfare standards have been implemented. This may show that listening to the voices of citizens showing the high standard of CSR (corporate social responsibility) is increasing their awareness of animal welfare issues. We wish for them to pursue the issue of egg-laying hens as well since they appear to be having discussions regarding egg suppliers to meet global standards, so that they can go cage-free.
Izumi Co., Ltd.
(Product Department)
As of March 2017, there are few cases of cage-free eggs. They pleasantly accepted our petitions via mail, rather than direct submission, due to the distance (their head-quarter is in Hiroshima). The petitions were sent along with your comments. We delivered the message that we would like this petition to be taken into consideration when they purchase eggs from now on.
Seiyu GK(Walmart Japan)
(CSR Department)
When we submitted the petitions and asked to exchange opinions in February, they pleasantly received our request. In April, we exchanged our opinions with a person in charge from the CSR Department.
Their parent company, Wal-Mart, announced to go cage-free on April 5th in 2016.
Seiyu GK was also aware of eggs from battery-caged hens and started the sale of cage-free eggs in some stores in October 2016.
We asked them to go one step further. That is, they set the goal to go cage-free in year of xx.
Trial Holdings ,Inc
(Consumer Helpdesk)
We asked them about their measurement towards welfare issues of animals in agriculture by delivering the message many signed a petition to go cage-free in March 2017. They responded by saying "They can't comment."
Nihon Selco Co., Ltd.
(Management Department)
We requested them to receive the petitions and exchange opinions in February 2017. The response was that they were not able to respond since they are "Cooperative
(協同組合)."
Inageya Co.,Ltd.
(Products Head-quarter Department)
We requested that they receive the petitions and exchange opinions in March 2017. They expressed difficulty of doing so in person.
However, they agreed to receive our petitions and references. So we sent out your comments and petitions, as well as a summary of benefits to go cage-free as companies respond to global trends in animal welfare.
Also, a person from the Products Head-quarter Department told us that they were considering cage-free while it is yet to decide.
Kewpie Corporation
(CSR Department)
We requested them to receive the petitions and exchange opinions in March 2017. They pleasantly agreed so we met a person from the CSR Department in May. Kewpie Corporation had just started their measurement after attending a study sessions on Guidelines of Animal Welfare for Raising Livestock held by the Ministry of Agriculture, Forestry and Fisheries. We told them to consider the advantages of going cage free, as well as raising their awareness of the trends for animal welfare issues globally. We requested to consider setting a goal to go cage-free by year xx, and publically announce their goal.
Aim Services Co. Ltd.
(PR Department)
Aramark in the US announced to go 100% cage-free in 2015. While Aramark is the stockholder of Aim Services, they don't have any measurement to go cage-free. So we requested them to exchange opinions in May 2017. They responded that they were not able to provide any information since there was no policy on this issue as a company.
However, they pleasantly agreed to receive our materials to show Japanese consumers' awareness and global standards.
Metro Cash & Carry Japan
(PR)
Metro group has announced that they'd go cage-free by 2022.
However, Metro Cash & Carry Japan, the Japanese branch, does not have any measurement for cage-free.
So we requested them to exchange opinions while telling them many signed petitions to go cage-free in May 2017.
They responded politely, but Metro group in Japan is a retailer for the food industry, so it would be very difficult to have restaurant owners consider eggs from cage-free hens that may not reflect cost efficiency. It would be an even harder subject than the issue for consumers. Therefore, they asked to put off our meeting.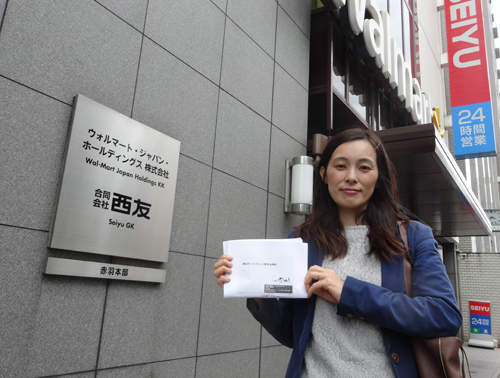 ​​​​​​​Translation:Seika.K
Copyright © 1997 - 2017
Animal Rights Center Japan
All Rights Reserved.