Increase in numbers of windowless poultry houses in Japan
2017/07/23
A belief in safety of windowless poultry houses is widely accepted in Japan.
However, it's only a myth that bird flu can be prevented if contact with wild birds is prevented.
It is true that some wild birds, out of dozens, who died in Japan carried bird flu, but bird flu of broiler chickens has not been prevented by cutting contact from wild birds through windowless poultry houses.
See types of poultry houses in which bird flu was discovered here.(JP)
And yet, the number of windowless poultry houses has been increasing because of this false belief.
Poultry houses
Open

Semi-windowless

Windowless

total

2007

Number of

poultry house

6,991

1,351

2,768

11,110

%

62.90%

12.20%

24.90%

100.00%

2014

Number of

poultry house

3,861

613

10,519

14993

%

25.75%

4.09%

70.16%

100.00%

Increase

%

55.23%

45.37%

380.02%

134.95%
From survey conducted by Japan Livestock Association(
2007年
/
2014年
)
First of all, the number of farmers to which the survey was conducted decreased while the number of poultry houses increased by 135%. So, it is notable that the number of poultry houses owned by one farmer increased.
With that in mind, the numbers of open houses and semi-windowless houses have decreased by 50% respectively, while the number of windowless houses has increased by 380%.
You can say that windowless poultry houses have rapidly increased in recent years.
The world trend is Less Windowless houses
Globally, it is now believed it's appropriate to have windows in poultry houses in order to admit natural light and fresh air in good weather, and windowless poultry houses don't allow animals to be active and causes health issues, which isn't in line with animal welfare.
In fact, you can't be in windowless or semi-windowless poultry houses, in which curtain walls are shut down all the time, and gigantic fans blow air, without a facemask. In addition, moisture, dust, and the smell cause coughing. In fact, the smell is so strong that it can last all day.
Tyson Foods in the US follows the standards set by National Chicken Council, which require open houses or houses with curtain walls, which can be rolled up.
In July 2017, the third biggest chicken producer in the US, Perdue Farms, announced its commitment to animal welfare. In its announcement, they clearly denounced windowless poultry houses and a shift to install windows in every house.
This commitment is easy to understand for consumers as it describes how they have been realizing 5 freedoms in animal welfare.
They've installed windows to realize "Freedom to Express Normal Behavior." They said, the data shows small disadvantages in feed conversion when windows are added, because of increase in the birds' activity, but overall weight gain, livability and condemnations are essentially the same, and their farmers show positive responses.
End Belief in Windowless poultry houses!
Chickens in windowless houses spend their entire (short) lives not knowing the outside world, having no freedom to express normal behavior, and being exposed to bad air.
Even with gigantic fans blowing, it's miserable not having access to natural light.
We should stop believing in the safety of windowless poultry houses as soon as possible, and at the least, we should install houses for birds to experience natural light and air.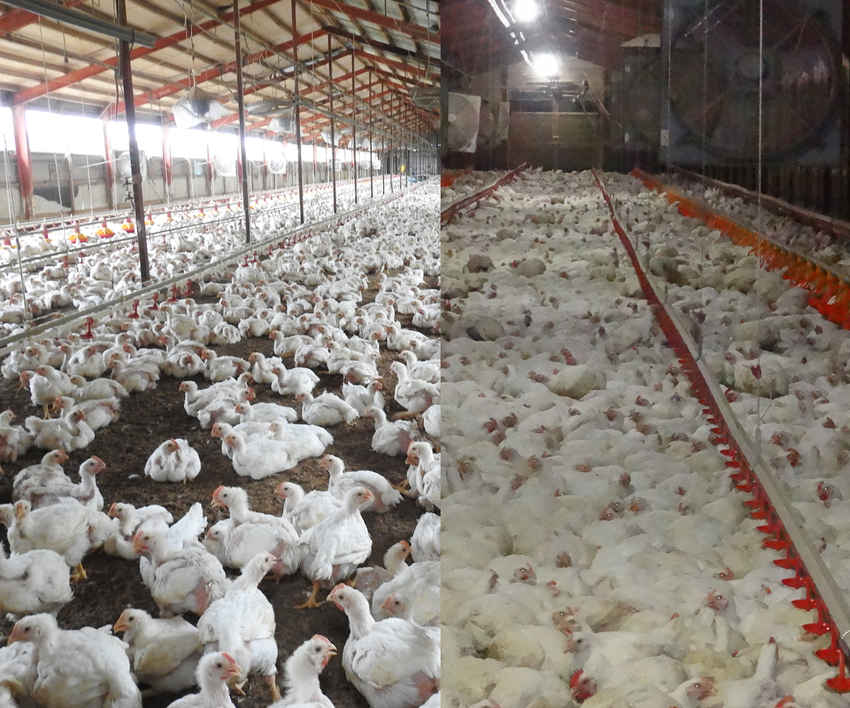 translation : Seika K
Copyright © 1997 - 2017
Animal Rights Center Japan
All Rights Reserved.